Blog Archives
With the death of Wes Craven still carving the hearts of the horror community, many tributes have flooded social networks. They're heartfelt, and many show great imagination. Some, however, are showing the wrong Freddy. I know what you're thinking, What do you mean "the wrong Freddy"? How many Freddys are there? The answer is nine. There are nine Freddy Kruegers. Official Freddy Kruegers, I mean, that have been in the films (and even on TV). Two actors (primarily) played him. I know, it may not seem like a big thing, but seriously, if you're so much a fan of something that you want to make a tribute to it, then do it right. And since I'm a teacher by day, I'll take it upon myself to teach you.
Any questions? No? All right, let's begin with a….
Pre-Test
What is wrong with these DVD and Blu-ray covers?
If you answered "Nothing," then this why we're here. The Freddy Krueger on the cover of the Blu-ray cover of the A Nightmare on Elm Street 2 & 3 collection isn't in either of those movies. It's the Freddy Krueger from A Nightmare on Elm Street 4. Hell, the house doesn't even appear in any of the movies. Now the cover of the Nightmare on Elm Street Collection DVD cover is even more problematic. This collection offers all the Nightmare movies from 1984's A Nightmare on Elm Street to Freddy vs. Jason, all of which starred Robert Englund as Freddy Krueger. However, the cover shows Jackie Earl Haley's Freddy Krueger from 2010's A Nightmare on Elm Street remake—er…reboot, sorry. Oh, and poorly Photoshopped onto Mr. Haley's Freddy's body is the classic Freddy glove. And by classic, I mean the glove from Freddy vs. Jason, which is supposed to look like…oh, we'll get to that in another lesson.
Anyway, let's begin….
The Lesson
A Nightmare on Elm Street, written and directed by Wes Craven and released in November 1984 smacked the horror movie across the face. The slasher subgenre specifically. Instead of a masked stuntman stalking victims, audiences were given an actor whose face was the mask. The makeup, designed by David Miller, was a fantastic representation of the burn scars in Craven's screenplay. Craven and Miller purposely decided to stray from realistic burn victims to create something that would be realistic but fantastic. Englund's makeup is layered in spots, so the burned flesh appears to be falling away from the muscle underneath, and there's even melted pieces dangling. Vaseline and K-Y Jelly was applied to the makeup to give it a nasty sheen. And if you want to nitpick further, Fred Krueger's sweater only has green stripes on the torso, the arms are red.
For the 1985 sequel, A Nightmare on Elm Street 2: Freddy's Revenge, written by David Chaskin and directed by Jack Sholder, the makeup changed. Kevin Yagher picked up the makeup effects duties and redesigned the look. He and Sholder decided that Freddy should appear older, more healed. Gone was the double layer of makeup, never to return, and instead came a single layer of prosthetics but with more of a sculpt. Yagher thought a sharper chin and cheekbones would be more intimidating. He also gave Freddy's nose a hook, a symbolic reference to one of cinema's scariest villains, the Wicked Witch of the West from The Wizard of Oz. The fedora Freddy wears is also different. It's bigger with a wider brim. Freddy also occasionally had brown eyes in this movie. Finally, the sweater isn't as thick as it was in the first movie, and green stripes have moved onto the arms. There are other differences in costume and such, but let's focus on the face in this lesson.
In 1987's A Nightmare on Elm Street 3: Dream Warriors, written by Wes Craven & Bruce Wagner and Chuck Russell & Frank Darabont, and directed by Chuck Russell, Yagher returned but changed the makeup again. The chin was dropped and the cheekbones were lessened. The scars became more defined again, though not as much as in the first movie, and the revealed muscles are a light, light pink, almost the same as the flesh. The differentiation between the open flesh and the melted flesh can only really be seen in bright lighting, which there is little of in this film. The hook nose is also brought back a little, though it's still present. Finally, the fedora has changed again. It's small than both of the previous movies' hats, though more in style with the first film's hat. The sweater's thickness and bulkiness is also different.
Yagher's makeup for A Nightmare on Elm Street 4: The Dream Master (1988), written by Brian Helgeland, Jim Wheat and Ken Wheat, and directed by Renny Harlin, is very similar to the previous movie's makeup. The chin is given only the tiniest bit more definition and so are the cheekbones. They're not the overdone version seen in Freddy's Revenge, but are just noticeable. Also, the nose is a little more hooked again. The patterns of the exposed muscles are very similar to that of the third movie's but are more define by their paint jobs. This is, arguably, the most famous Freddy Krueger look. At least for anyone who was aware of Freddy in the 1980s.This was the face that appeared everywhere! The hat is very similar, if not the same one as, the third movie's. Ditto the sweater.
David Miller returned to Springwood in 1989's A Nightmare on Elm Street 5: The Dream Child, written by Leslie Bohem and directed by Stephen Hopkins. Some of the wounds on Freddy's head in the original film were quite big and Miller went back to that. He kept the hooked nose but lost the cheeks and chin. The neck is almost chicken-like. Freddy looks withered and old in this movie. The hat is seemingly similar to the previous two entries but the sweater is different, brighter in color.
When Freddy returned for the final time in 1991's Freddy's Dead: The Final Nightmare, it was only natural his originator should return. By that I mean David Miller did the makeup again. With a script by Michael DeLuca, director Rachel Talalay's Freddy Krueger is a strange hybrid between the 3/4 makeup and the 5 makeup. The fedora has changed again, looking much more like Indiana Jones's fedora than ever before. The sores on Freddy's face are a little smaller and the cheeks, chin, and nose are amplified again, but there's a strange fleshiness to the face now. Maybe Englund gained weight? Either way, the makeup is some of the weakest in the franchise, because in close-ups, it looks like a man wearing a rubber mask.
Do I even have to talk about Freddy's look in Wes Craven's New Nightmare? Craven's true return to the franchise as writer-director had him rewrite the rules and turn a magnifying glass on his own movie. The Freddy in this film isn't really Freddy Krueger, but rather an evil spirit/demon that had inhabited Freddy. The look is purposely different, though Craven said in an interview sometime in the last year or so that he thinks he maybe should've left Freddy's look alone. I disagree. David Miller also did the makeup for this movie.
How do you follow up a masterpiece? With a cheesy money-grab monster fight. Still, in 2003 I paid my money down to see Freddy vs. Jason, written by Damian Shannon and Mark Swift and directed by Ronny Yu. In recent years, this makeup had superseded the Yagher makeup from The Dream Master as the most recognizable, though it obviously has its origins in Yagher's design, which is a smart choice. That big spot that's roughly the shape of South America on Freddy's left cheek is like a feature-defining mole. I can't seem to find any one person responsible for the look of Freddy in this film, but do you really care? Neither do I. (Not true, I do care, but it's past my bedtime and I need to finish this thing!). Anyway, the chin and cheek enhancements are gone again. The hooked nose is far less prevalent but still there. The exposed muscles are much darker in color while the melted flesh is much brighter in color than their predecessors. This makeup really looks like a fan-made version of Freddy's makeup. I wonder if they moved to silicon in this version. Anyway, the hat is different, still Indiana Jonesish, but by this point, what were the chances that Harrison Ford and company would return to that old franchise? The sweater is also much, much too dark.
And, finally, the Freddy Krueger makeup for the 2010 remake of A Nightmare on Elm Street, written by Wesley Strick and Heisserer and directed by Samuel Bayer, goes realistic. To break free from the fantasy look that David Miller and Wes Craven agreed upon in 1984, they wanted Jackie Earl Haley's Freddy to look more like a true burn victim. The problem is that when the camera is anywhere but up close, Freddy's head looks like a meatball. Digital effects meant to enhance the design only hurt it because their work doesn't match up from scene to scene, making there no one definite look to Freddy in this film. Even the hat changed throughout production. Basically, like the movie itself, the look is a mess.
All right. Are you ready for your test? I'll let you review the material for a few moments and we'll begin. Ready?
Test
What's wrong with the DVD cover and the Blu-ray menu?
And next time, we'll talk about the differences in Freddy's glove between movies.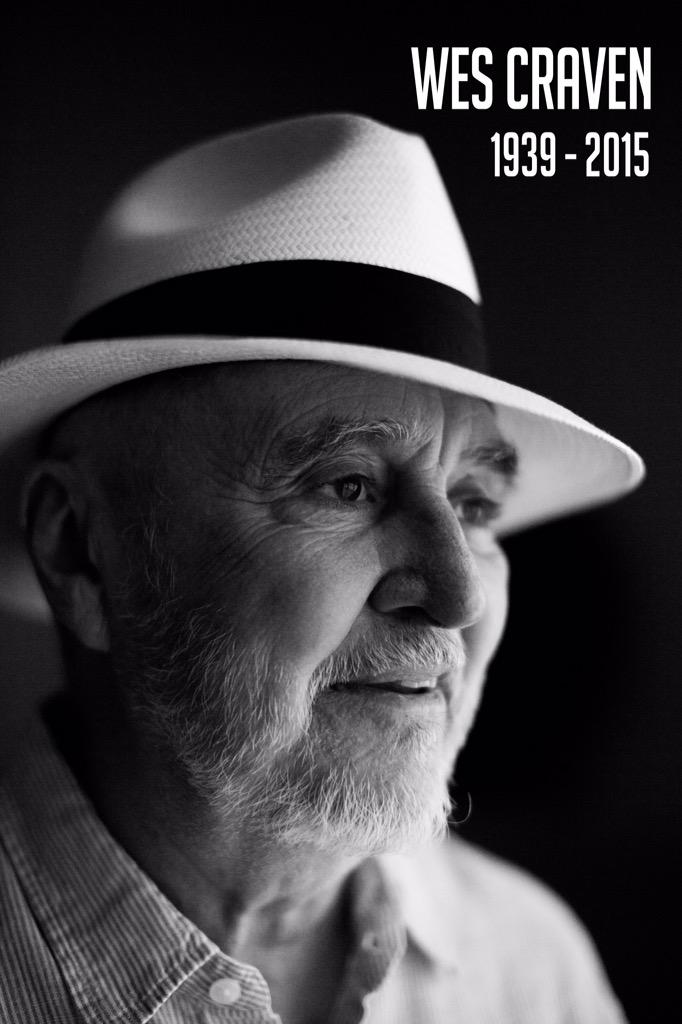 The first time I saw the name Wes Craven, it was in TV Guide, around 1986. It was in the synopsis for A Nightmare on Elm Street, which read something like, "Horror maven Wes Craven's tale of teenagers terrorized by a killer in their dreams." The fuckers gave it two stars if I recall. In the following years, his name popped up on TV more, usually for commercials of his follow-up movies: "From the creator of A Nightmare on Elm Street, Wes Craven, comes…" Shocker. The People Under the Stairs. The Serpent and the Rainbow. As I found and read Fangoria, and other stuff about horror, I learned more about him, but it really wasn't until I was in high school and I saw interviews with Craven that I learned really learned about him.
When I saw the news of his death last night, I was rocked. It came on the night before I was to start a new school year as Mr. Gauthier, so maybe I wasn't as rocked as I may have been two weeks ago, when I wasn't as stressed. Still, it was a shock and very, very sad.
I can't say I've seen every Wes Craven movie because I haven't. I feel like I only saw the original The Last House on the Left in the last eight years. I saw The Hills Have Eyes sometime in the mid-1990s. I saw Shocker and The People Under the Stairs when they first came to cable. I know I saw The Serpent and the Rainbow but can't remember when, though I think I was in high school. Deadly Friend was viewed not long after seeing A Nightmare on Elm Street the first time, but I didn't know who Wes Craven was and it was on cable as I was discovering horror. I barely remember any of these movies except the first two. Have I seen Swamp Thing? I don't know. I've definitely seen pieces of it, just as I've seen pieces of A Vampire in Brooklyn.
Truth be told, I'm really quite astonished that I haven't seen more of his movies. I really only know his creating and contributions to the A Nightmare on Elm Street series and directing the Scream movies. This upsets me.
Craven has been someone I would've loved to have met. When I found out he bought a house on Martha's Vineyard, a ferry ride away from where I live, I sometimes thought it might be cool to run into him somewhere, let him know how much he meant to me, and ask if he'd have coffee with me. I know it's crazy talk, like a deranged stalker or something, but Craven had this feel about him that he was approachable and would sit down for a conversation.
What I think was my favorite aspect of Wes Craven, other than writing and directing my two favorite Nightmares, the original and Wes Craven's New Nightmare, is that he wasn't just a guy who was into horror for the sake of making money, but that he was actually releasing fears, his own and others. When you look at someone like Sean S. Cunningham, creator of Friday the 13th (and mentor of Craven's), this is a guy who made horror films for a fast buck. His producing of Craven's first film, The Last House on the Left, came about because low-budget horror movies were starting to do well. He told Craven, who was itching to direct a movie, that if he wrote a horror movie, Cunningham would let him direct it. What probably wasn't expected was that Craven would actually make a movie that was almost too dark, too scary, too violent, a movie that became an underground classic almost immediately.
Craven loved cinema and understood how to scare. He saw it as cathartic and necessary. The creation of Fred Krueger is an amazing story of thought, feeling, and psychology. Breaking the mold of having a stunt person play the killer and instead hiring Robert Englund, who knew no boundaries to get the desired effect, Craven revolutionized the horror film bad guy. Suddenly they all had to have personalities, make quips, and find creative, supernatural ways of killing. A range of sharp objects and tools were no longer good enough, they had to have interesting weapons or a cool new way of killing.
Then in 1994, Wes Craven's New Nightmare just knocked the whole block castle down. It's a shame it didn't do better business at the box office, but the movie is, I think, a masterpiece. He asks important questions. Do horror films negatively impact their viewers? What about the people who make them? This line of questioning is woven throughout his Scream movies.
Wes Craven was 76. He was an old man who lived a great life. This doesn't stop my sadness. A Nightmare on Elm Street is up there with Star Wars as movies that shaped me. Knowing that he will never make another movie, never impart more of his wisdom, and never scare the hell out of me deeply saddens me.
"Some people ask why people would go into a dark room to be scared. I say they are already scared and they need to have that fear manipulated and massaged. I think of horror movies as the disturbed dreams of a society." — Wes Craven
With the Friday the 13th movies still making money but straining a very thin premise, Paramount and producer Frank Mancuso, Jr. were looking for something new to do with the franchise. Sean S. Cunningham was also interested in possibly doing something new with the franchise, especially now that there was a new kid on the block. The block happened to be on Elm Street in a sleepy town called Springwood.
In 1984, the fledgling New Line Cinema released a film by Cunningham's protégé Wes Craven called A Nightmare on Elm Street. The movie was scary and had become a sleeper hit. The villain of the film, Fred Krueger, portrayed by the classically trained Robert Englund, sliced his way to the top of people's Favorite Villains list with a concept unlike any that had been done before. New Line went ahead with a sequel even though Craven refused and 1985 saw A Nightmare on Elm Street 2: Freddy's Revenge. While the critical and fan response to the second movie was much less favorable than its predecessor, the movie earned more than the first movie, securing another sequel. In 1986, filming was underway on A Nightmare on Elm Street 3: Dream Warriors. With the return of Wes Craven, along with his writing partner Bruce Wagner, on the story and script (along with Frank Darabont and director Chuck Russell), anticipation was high. Freddy Krueger was already being mentioned alongside Jason Voorhees as one of the best monsters of 1980s horror.
Cunningham saw this as an opportunity to revitalize the series he co-created and pitched the idea of putting the two maniacs together in the style of the old horror movies. So began talks between Paramount Pictures and New Line Cinema. Paramount wanted to "rent" the rights to Freddy Krueger, Elm Street, and the rest. Being an old movie studio, it was in a position of power. Except that New Line's new horror villain was the "It" Monster at that moment. Freddy had a sense of humor, ran around, and got people in their dreams while Jason just shambled about. So New Line proposed "renting" Jason, et al. Neither party would budge and the deal fell through. Still, the movie was pretty close to happening.
So with the Jason and Freddy match-up off, Paramount and Mancuso, Jr., went ahead with plans for a seventh Friday the 13th. Still, the idea that Jason had a formidable opponent was forefront in their mind, so writers Manuel Fidello and Daryl Haney gave Jason a psychic/telekinetic teenage girl to fight. It reminds me of that famous quote from Ferris Bueller's Day Off: "I asked for a car, I got a computer." Paramount asked for Jason vs. Freddy, they got Jason vs. Carrie.
This was the first Friday the 13th I believe I saw since it came on HBO/Cinemax the year after its release and by that point I was officially into horror. I liked it well enough at the age of 12, I guess. It was interesting, at least, the girl using her mind to move things. Since this was before I began reading Stephen King and hadn't seen the movie Carrie, I didn't have that as a frame of reference. That probably helped me somewhat like the movie back then.
The Day
Jason (Kane Hodder) looks like a monster, which is cool. Between the third movie and the sixth, he could just as well have been Michael Myers of Halloween–a dude with a mask killing late-teenagers/young adults. Somewhere he even got a jumpsuit like Myers. With this movie, director John Carl Buechler decided to really have Jason look like he's been through the wringer. While the previous movie zombified him, this movie went all out. He'd been in a lake for years and now looked it with his clothes in tatters and bones visible. It also made Jason different from the other famous monsters of the 1980s.
The attempt at something different should also be given a nod. It would have been real easy to just have the kids be at a camp all over again and Jason inexplicably come back to life and kill them one by one. This time, there's a telekinetic teenage girl named Tina (Lar Park Lincoln). There was a hint of spousal abuse that could be brought up and a doctor (Terry Kiser) who seemed to be taking advantage of his patient for personal gain. Tina's powers are a little silly at times (try not laughing when a TV flies through the air when she's upset at the doctor and her mother) but the fights with Jason are almost interesting and somewhat entertaining.
Terry Kiser is good in this movie. His is a face you would recognize as he was in so much in the 1980s. I mean, he was Bernie in the Weekend at Bernie's movies! He has a quality about him that's just kind of slimy and he pulls off the Doctor-Up-To-No-Good thing so well.
The Night
The acting has gone back to being uninteresting at best. Some of it is horrible. Most of it is forgettable. Lar Park Lincoln does her best with the material but it just falls flat. I almost wonder if a better director, or better script, would have helped her. The rest of the cast fits into stereotypes, one way or another.
Though the look of Jason now distinguishes him fully from Michael Myers, I was distracted by the make-up effects for him. You can see his teeth and jaw exposed on the left side of his face and his ribs and spine on his back. Yet, they never feel like they're in him, but rather on top of him, which they are. It was a valiant effort that ultimately fails and actually distracted me.
The beginning and ending are lame. The movie starts with young Tina running out of a house on Crystal Lake (where we see Jason floating beneath the surface, looking like he did in the previous movie). Young Tina climbs into a boat and rows away from the dock. We've heard the sound of her parents fighting and her father hitting her mother. Then Daddy comes out and chases Tina, saying he's sorry and that he'll never hit Mom again and all that shit. In a moment of anger, Tina uses the Force to destroy the dock, which means Daddy falls into Crystal Lake, to his doom. When she comes back for "therapy" years later, Tina goes to the dock and senses a presence underwater (I think…this is never really clear). Then she uses her telekinesis to bring Jason back, thinking it's her father.
At the end, the way Jason is finally "killed" is lame because Tina, once again on the dock, her new boyfriend with her, is being attacked by Jason (who we thought was blown up with the house). Tina uses the Force again to feel a presence under the lake and WHAMMO! Daddy comes out of the water, through the dock, and brings Jason down with him. Unlike Jason, though, who decayed underwater for almost a decade, Daddy is a little dirty but is otherwise the same guy we saw in the prologue.
And while we're talking about Daddy here, let's talk about how fucked up this movie is when it comes to women. Now, I know that the Friday the 13th movies tend to objectify women, but there are some strongish women in most of the movies. Or at least I think they're supposed to be strong, because it's almost always a woman who defeats Jason, or helps defeat him. But bear with me here. So in the prologue, we hear the mother get slapped by the father, who, moments later, tells his little girl that he won't do it again, even though it seems he's made this promise before. So she kills him. Now, she comes back in her therapy (which is really just the doctor using her powers to make a name for himself) to the location where Daddy met his fate. She is distraught at the memory that she killed him. Her mother tries to assuage her grief. There's a photo of Dad on the wall in the house. She killed her Dad, she killed her Dad…waaaah! And then she uses the same powers she used to bring Jason back to bring him back to save her. Has she forgotten the reason she killed him? Has she forgotten that he beat her mother? I know that a child may feel guilt at this, and that guilt might carry over the years, but how can Mom be so understanding? Or am I just reading too much into this subplot?
While the filmmakers attempted something different, they fail. By now, it's beginning to feel like gimmicks are being thrown together. Not that the whole series is anything more than gimmicks. Jason in 3D! Jason dies! A new killer! Jason lives! Jason fights…um…er…you said we can't use Freddy?….um…Jason fights…[sees Stephen King's Carrie on the bookcase]…a telekinetic girl! Here's the thing with the Friday the 13th movies and the character of Jason Voorhees as he'd been presented up to and including this point: You can't do much with him. He is a zombie who doesn't eat his victims, who has superhuman strength, and always manages to find a machete. He's just a machine that kills. So you could have him fight a telekinetic girl, Freddy Krueger, or the Harlem Globetrotters but the fact remains that he's just going to shamble around killing people.
Saturday the 14th
I realized while writing that last paragraph that it was becoming the wrap-up, so I'll wrap it up. By the seventh movie in this franchise, Jason Voorhees is a bore. The sixth movie proved to be the exception that proves the rule. Friday the 13th Part VII: The New Blood was made for $2.8 million and earned $19.2 million after its May, 1988 release. Compare that to A Nightmare on Elm Street IV: The Dream Master, which was released that August and cost $13 million (about $10 million more than the former) but made $49.3 million, more than any of the original Friday the 13th movies had ever made.
The only thing the filmmakers could do to keep him interesting was throw in different gimmicks. What would be next? Freddy was too successful on his own. Fight Michael Myers, whose own franchise had been rejuvenated based on the successes of Jason and Freddy? Have Jason fight Superman, whose movie career was over for a bit? Or maybe a change of scenery would be it. Something silly, like sending Jason to New York.
Yeah, right. Who would buy that?